Bonjour,
I'm not sure about following along the
chalenge at Colette's pattern
since I do not have much time to sew... But I have a birthday resolution ; to take more care into my appearance and affirm my tastes by going a little retro with luxurious fabrics in colors that I love. I plan to sew some pieces to achieve that and having a little ME time in my frantic life of full time stay at home mom, part-time graduate student, part-time engineer working from home...
Palette
Almost all of my fabrics purchases this year are within a color palette that I love : fuchsia/raspberry, pink, grey, black and white.
Fall Palette 2011
Fabrics
(INSERT PHOTO OF FABRICS)
Raspberry mystery 6y
polka dots blue 3y (not in palette, but same drape as the next two. Cheap, so wearable muslin for me!)
pink mystery 4y
raspberry/pink/grey/black/white poly charmeuse 3y
Jacob black ?y
grey/silver linen look mystery ?y
wool blend b&w herringbone ?y
wool blend pink/raspberry twill ?y
Grey stretch tiny corduroy ?y
Lining : fuchsia with black leaves 4y
Lining : Bemberg grey twill 3y
Lining : Bemberg pink twill 2y
Projects and patterns
(INSERT PHOTO COLLAGE)
2 or 3
Serendipity Studio Monique Dresses
: raspberry with a-line skirt and pockets, a polka dot blue (?), grey/silver with pencil skrit probably with a lined bodice (instead of facing?)
Serendipity Studio's Monique Dress
3 Burdastyle
Jenny skirt with many variation
s : Jacob black, grey/silver, twill pink/raspberry all lined...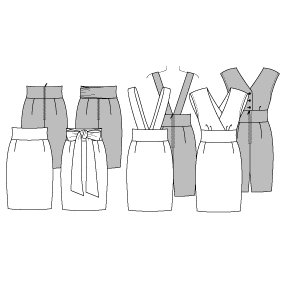 Jenny with variations
1
Burdastyle stretch pencil skirt
in grey corduroy.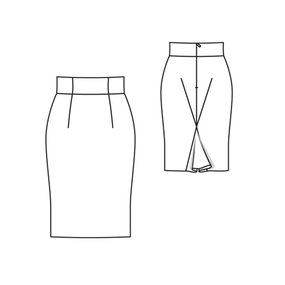 02/2011 Stretch Pencil Skirt #103A
2 or 3 Silky tops (
New Look 8606
, love view C) : pink poly, raspberry/grey/white/black poly charmeuse, grey silk charmeuse
New Look 6808
2 Colette's
cinnamon
slip : grey silk charmeuse(?), rust pink silk washed charmeuse
Cinnamon Slip
Maybe a cropped jacket in herringbone black & white if I have enough fabric...